Cream Eyelash Extensions Remover 10g
Regular price

Sale price

$13.90
DESCRIPTION

FOR PROFESSIONAL USE ONLY! DO NOT USE TO REMOVE YOUR OWN EYELASH EXTENSIONS AT HOME!

Our best selling Creamy eyelash extensions remover is designed to remove eyelash extensions safely and easily:

once applied, stays on the extensions and does not leak into the eyes
bright pink "easy to see" colour helps to apply and after, clean the remover off easily
perfect product for those clients who have sensitive eyes
Removal time - 10 mins to 45min depending on:
Amount of extensions applied (it takes longer to remove a full lash set as the remover needs to reach every single glue bond and creamy consistency doesn't always allow it when the lashes are "packed" together. In this case removal process is being done in stages - top lash layer is getting removed first and then we remove the bottom layer)
How "recent" the set is (it takes a long time to "de-bond" the fresh 1-2 weeks set, and it takes significantly less time to remove old 3-6 weeks lash set)
Amount of glue used during the application (the more glue used, the longer it takes to "melt" it).
HOW TO USE

Using a micro brush, apply a generous layer of the remover directly onto the glue bonds. Leave for 10-45 mins (depending on the amount of extensions, how fresh is the set and the amount of glue used) and remove gently with dry cleansing brushes or tweezers. Ensure that remover and traces of adhesive are fully removed with dry brushes before you use other products.

OW LASH TIP: Please note that if you use any liquid to remove the traces of the remover - lashes might turn white as the traces of melted adhesive will shock polymerise. After all the traces of the remover and adhesive are fully cleansed with dry brushes, use Protein Removing Pads to make sure the eye area is completely clean. If you wish to continue with the application of a new set, after cleaning the eyes, follow the usual pre-treatment steps and use a cleanser and primer.

PLEASE NOTE: Remover needs to be applied with care. The product should NOT come into contact with the skin or eyes.
Coupon

Buy ≥$105 Get $5 Code:5$

Buy ≥$199 Get $10 Code:10$

Buy ≥$299 Get $15 Code:15$

Buy ≥$399 Get 5% off Code:ow5

Buy ≥$499 Get 10% off Code:ow10

Buy ≥$1000 Get 15% off Code:WH15

Buy ≥$2000 Get 20% off Code:WH20

Note: Quantity discounts and coupons cannot be used at the same time, and the coupons are copied for the checkout interface
Share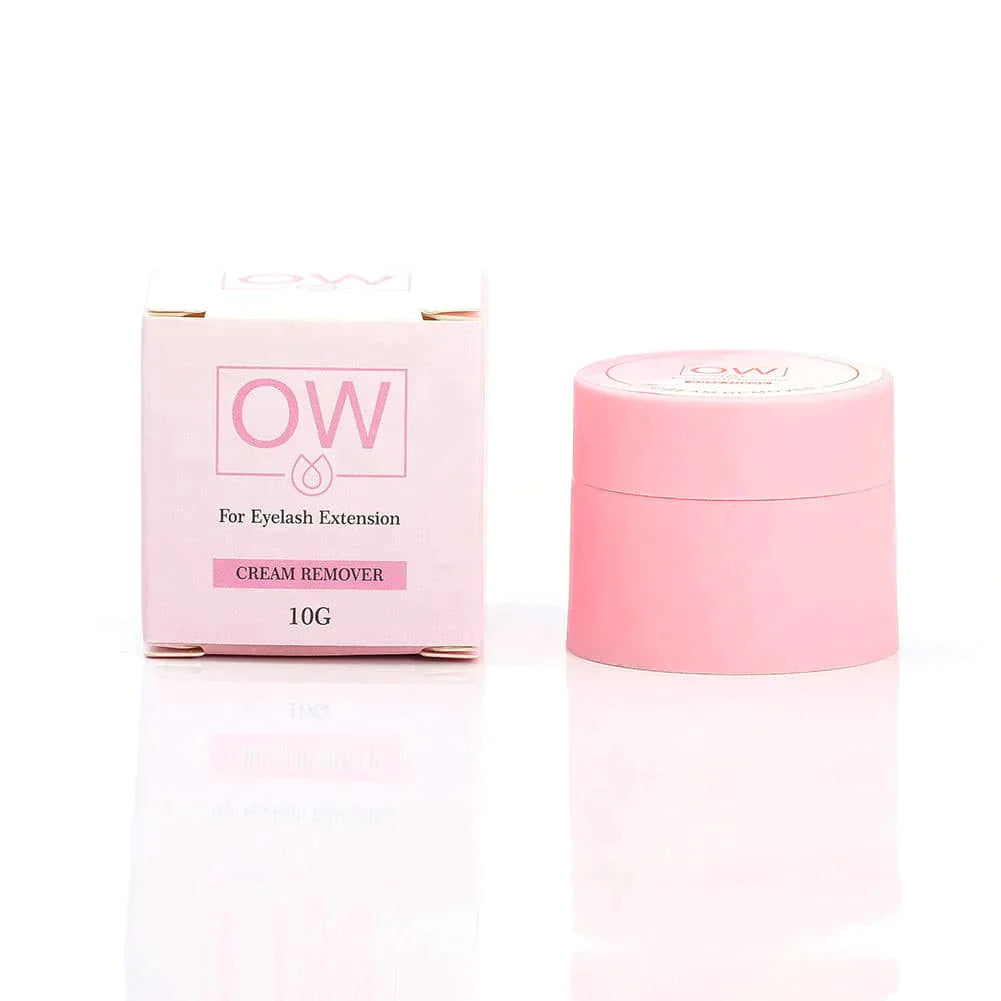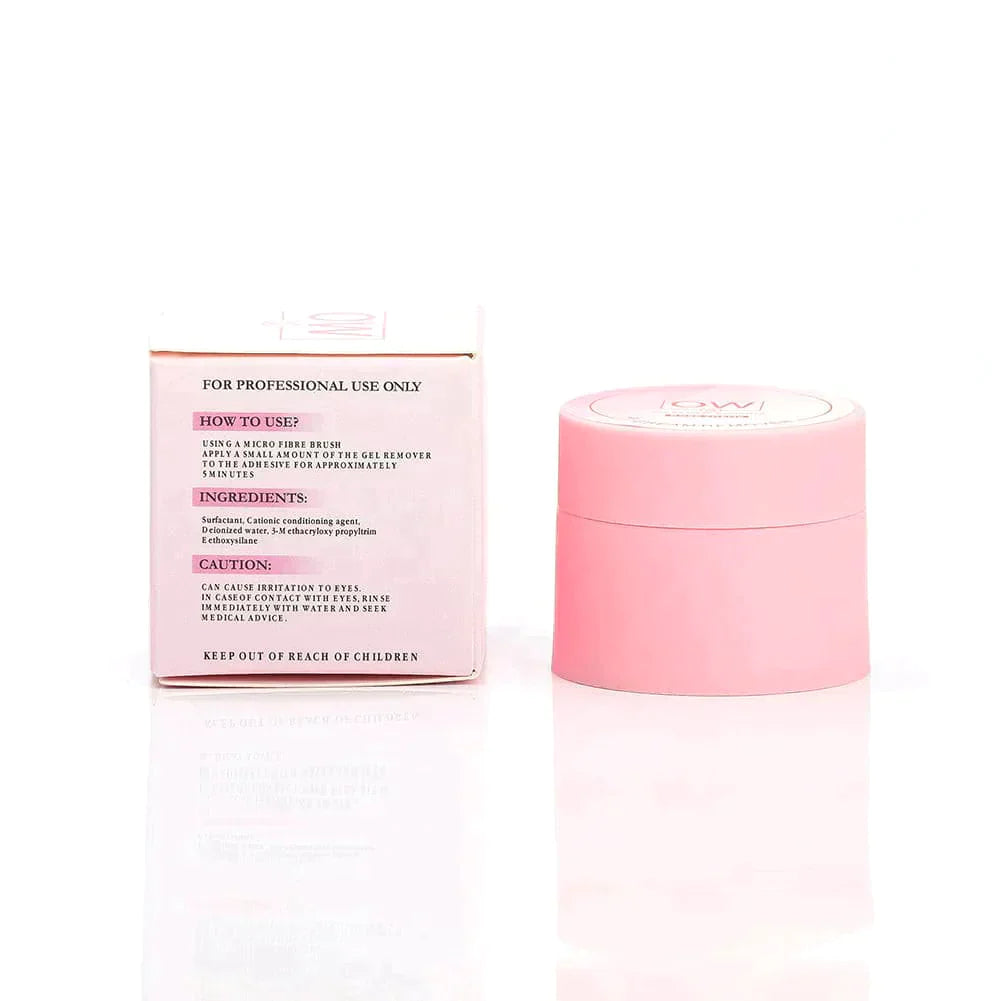 WORKS GREAT but be cautious of
Firstly, I'd like to say that prior to this remover I've been struggling to remove the remaining lash extensions I had. THIS LASH EXTENSION REMOVER WORKS. Here's somethings I'd like to note before you buy.
1. I applied it to my eyes with a q-tip and let it sit for about 20 minutes to ensure enough time for the remover to settle in the glue. I set a time and laid down with my eyes closed. I used a spoolie (lash brush) and brushed the lashes off. THEY CAME RIGHT OFF. You just need to allocate some time to let it sit.
2. In regards to irritation, I experienced a little irritation but ONLY if the remover got INSIDE my eyes. They did not burn my actual eyes nor take my real lashes off. If a little got INSIDE my actual eye, it wasn't very comfortable. Just rinse your eyes out with water. The pain is bearable, I'd compare it to getting soap in your eyes.
With that being said, make sure to set enough time for this process and just be careful not to get it inside your eyes. Use a warm wet washcloth to wipe away any residue. Good luck!
Best eyelash extension remover, EVER!
This product works perfect. Took an extra day to arrive but that is okay. The product definitely makes up for it. I've been doing eyelashes for 3 years now and nothing I've ever used worked as this product does. It takes maybe 7 minutes to remove glue residue from the extensions making it extremely easy to remove them from the natural eyelash. Will definitely be buying again!
Get involved in our Facebook group
Share information about your brand with your customers. Communicate with more eyelash artists and solve your problems~
Join Us