The article combines some of divinelashes' opinions, and on this basis, compares all the current eyelash lights, so as to choose the best one and recommend it to eyelash artists.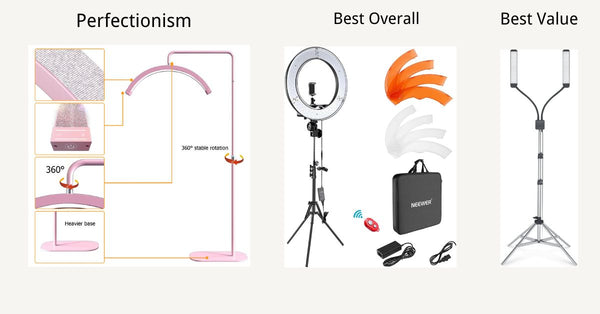 These are the three most used lights in eyelash extensions at present, the first one is the just popular half-moon eyelash light
Whether you're a new lash artist or a seasoned pro looking for an upgrade, having a great light is the key to providing your clients with the best possible lash experience.
We will compare them in terms of light, appearance, installation, use and price, so as to choose the most suitable one for you.
why i can be trusted
I'm Jackson, from an eyelash manufacturer company, I'm not only a product manager but also a very good salesman, I have 6 years of sales experience, and I'm also involved in the operation of eyelash salons, so I know what products customers need. And I have stepped on the pits of countless products for everyone, which can prevent you from wasting more money to test
——————————————If you have any questions about the product, or want to customize your personal branded product, then I can totally help you——————————————————————————————
Choosing the right lamp when you start your lash business is a decision every lash artist faces at some point in their career!

Yes, you may also be able to buy other lights. For example, you could use a floor lamp, a desk lamp, or a magnifying glass lamp. But in my opinion, these lights are not ideal for eyelash extensions because they don't provide even, consistent lighting, and they can be bulky and unsightly.
1、Glamcor Elite X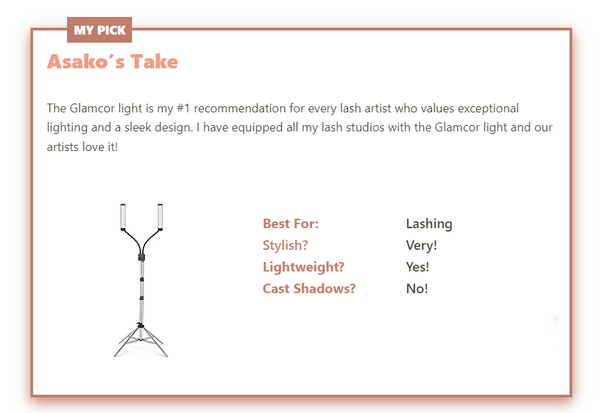 Key Features:
5,600K HD Daylight LEDs.
2 flexible arms.
5 brightness settings.
336 LEDs. Previous models only had 120 LEDs.
Pros and Cons:
What's to like?
The two staggered arms provide the perfect lighting angle.
Sleek, modern, and stylish design.
Lightweight and portable.
Easy to set up and take down.
What's not to like?
More expensive than competitors.
Not dimmable – you have to choose between 5 brightness settings.

2、Neewer Ring Light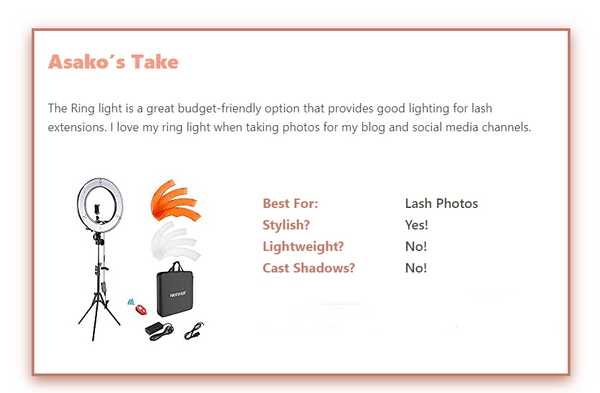 Key Features:
Comes with 2 color filters (White and Orange). You can switch the temperature from 3200K to 5600K.
18-inch diameter LED ring light which allows for full coverage of your client's eyelashes (and more!)
Dimmable from 1% to 100%
An aluminum stand that extends to a maximum height of 61 inches.
Pros and Cons:
What's to like?
The phone holder is just awesome. I use it all the time to take pictures of my client's eyelashes and it just makes life so much easier.
The 18-inch diameter is perfect for lash artists as it provides full coverage of the lashes without any cast shadows. You can see the baby lashes very easily.
Inexpensive when compared to other options.
What's not to like?
The ring light is quite heavy and bulky. Not ideal for mobile lash artists.
The tripod takes up a lot of space next to the lash bed.

The Neewer 18-inch RGB Ring Light is an upgrade over the standard 18-inch ring light. For a little extra money, you get an RGB color temperature changing feature which is great if you want to take pictures with different color effects.

Also, you get a flexible gooseneck which allows you to position the light in any direction. This is especially useful if you want to take pictures from different angles.
And its price has a great advantage, suitable for salons who are just starting their families.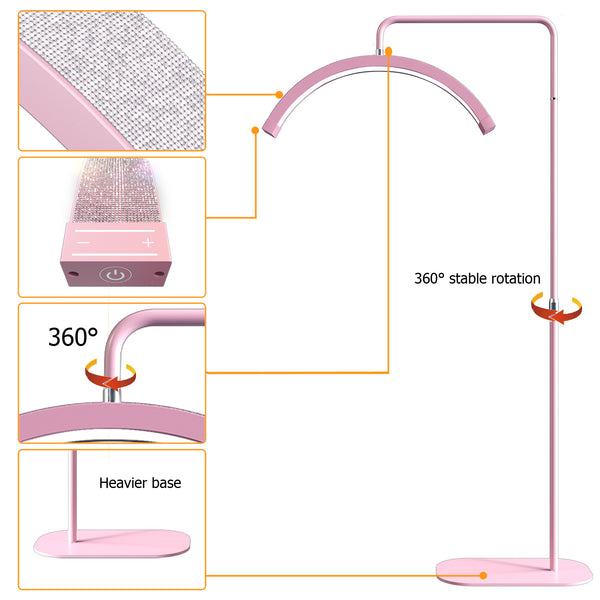 This is a new type of eyelash light that just appeared on the market and has been upgraded twice. December 1, 2022 At present, what we are selling is the latest model, which has not been sold on platforms such as Amazon and eBay. The biggest difference between the new model and the old model is the optimized buttons
The new model uses a touch screen switch to adjust the brightness of the light through "plus" and "minus", which is a perfect design
Key Features:
5,600K HD Daylight LEDs.
3 kinds of light sources from soft to bright, touch screen adjustment
18-inch diameter LED ring light which allows for full coverage of your client's eyelashes (and more!)
Dimmable from 1% to 100%
Pros and Cons:
What's to like?
Diamonds on the edge of the light frame, three colors
Unique fashion design appearance
Easier to install than the previous two
You can place a mobile phone holder to record your work (many people love it so much)
What's not to like?
The price is more expensive than round lights
The scope of application is narrow, most suitable for flat beds, not friendly to massage sofas
Final thoughts

I recommend when you first start whipping and don't know what kind of lights to use. After reading a lot of reviews, you can go for the ring light, still a lot of people use it

But in the future, your business is very good, so you can change to a half-moon lamp, which will increase the atmosphere and appearance of your studio, and attract more customers.

I hope this guide has helped you understand the different types of lash lights and how to choose the one that best suits your needs. If you have any questions, feel free to ask them in the comments below!