Regular price

$29.00

Sale price

$20.00
UV lash glue – exclusively for lash extensions with UV lamp
– This lash glue only works with our UV lash Lamp!
– safe & tested
– Easy removal with normal remover
– Removal of outgrown lashes as usual with tweezers
– Good for allergy customers 
Lightning fast, extreme retention
Curing within 1–2 seconds – extreme retention that no classic lash glue will ever achieve. No residual fumes after the curing process. Lasts until the natural lashes fall out.
✅ Water is allowed IMMEDIATELY to the lashes
✅ No 48h rule anymore
✅ No bonder or sealer needed anymore
✅ almost no fumes at all
How to use?
Dip into the glue
Put on the natural lash
Trigger UV light
Wait 1-2 sec.
You can directly start with the next lash – without accidentally sticking them together.

Don't let the light shine directly on your open eyes
A glue that solves all your problems.
Up to 80% success rate with allergy customers
Humidity no longer plays a role
Temperature no longer plays a role
Seasons no longer play a role
Coupon

Buy ≥$105 Get $5 Code:5$

Buy ≥$199 Get $10 Code:10$

Buy ≥$299 Get $15 Code:15$

Buy ≥$399 Get 5% off Code:ow5

Buy ≥$499 Get 10% off Code:ow10

Buy ≥$1000 Get 15% off Code:WH15

Buy ≥$2000 Get 20% off Code:WH20

Note: Quantity discounts and coupons cannot be used at the same time, and the coupons are copied for the checkout interface
What are the ingredients in the glue?

Ethyl cyanoacrylate, Sodium stearate, Photoinitiator.
Drying time and holding time of the glue

2s

Holding can last up to 7 weeks
Is it allergic?

Our experience shows that up to 8 out of 10 clients who previously had an allergy and therefore could no longer wear lashes are symptom-free with our uv lash glue. This means that allergies no longer occur.

In rare cases, however, allergies do occur, and these are extremely sensitive customers. So there is no guarantee for "allergy-free", but our system shows a high effectiveness with many female customers!
Share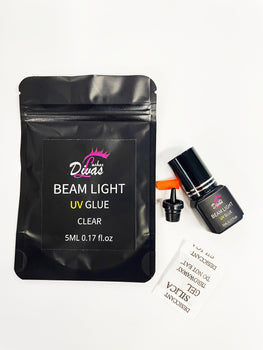 Get involved in our Facebook group
Share information about your brand with your customers. Communicate with more eyelash artists and solve your problems~
Join Us