12D 500 Fans Handmade Premade Loose Mega Volume Lashes
Regular price

$16.90

Sale price

$12.90
Material Silk, Polybutylene Terephthalate Fiber
Item Form Individual
The 12D Pre Made Mega Volume Fans can improve the speed of your application and the quality of finish which means more time for more clients! 12D Pre Made Mega Volume Fans are heat-bonded allowing the lashes to be applied to the natural lash with one dip of adhesive.
✔HIGH-QUALITY PROMADE VOLUME LASHES ARE YOUR BEST CHOICE: 100% hand-made by our OW skilled artisans. Using black Korean PBT Silk, this friendly material gives you and your beautiful clients soulful eyes with stable curl lashes, a soft, lightweight and luxurious feel, and a glamorous look without damaging the natural lashes. Premade Lash Fan has been known in the beauty community for a long time, and Promade was created to replace Premade position because of its outstanding advantages.
✔ACCURATE CULR & THICKNESS: OW provides you with our 500 soft, comfortable Promade Easy Fan Lashes. Understand the need differences; we supply more sizes and a variety of curvature, thickness, and lengths ( 3D-8D/10D/12D/14D/16D Fans; 0.03/0.05/0.07mm Thickness; C/CC/D Curl; 8~16mm Length ). We recommend using these lashes with a Silicon Lash Pad to help the loose lashes stand up and a quick and easy application.
✔CONVENIENT TREATMENT: OW loose promade fans is a bulk-type packaging that makes it easier to move while working compared to using the products with a stripe layer so you can perform the procedure faster. And because the residue of the fixed tape does not attach to false eyelashes, it allows for cleaner and better feeling of eyelashes extension.
✔BEST TIME-SAVING LASHES EXTENSION: Successfully selling in US and UK markets,OW confidently brings out the worthies natural false eyelashes: Quickly apply and remove using lash tweezers; Small feet & sucks glue; Spread evenly & fly. Perfect for professional, makeup salon, etc. These can be used by beginners or seasoned lash artists alike.
HOW TO USE
STEP 1: Clean up the eyelashes carefully to prevent discomfort after eyelashes are grafted
STEP 2: Take off one strip from the lash strip tape easily by the tweezer.
STEP 3: You can use Classic Lash Extension (pick 1 root) or Volume Lash Extension (pick multi roots) based on your desires.
STEP 4: Dip it into a small amount of glue, then graft the fan lash extension on your customer's appropriate eyelash area.
Coupon

Buy ≥$105 Get $5 Code:5$

Buy ≥$199 Get $10 Code:10$

Buy ≥$299 Get $15 Code:15$

Buy ≥$399 Get 5% off Code:ow5

Buy ≥$499 Get 10% off Code:ow10

Buy ≥$1000 Get 15% off Code:WH15

Buy ≥$2000 Get 20% off Code:WH20

Note: Quantity discounts and coupons cannot be used at the same time, and the coupons are copied for the checkout interface
Share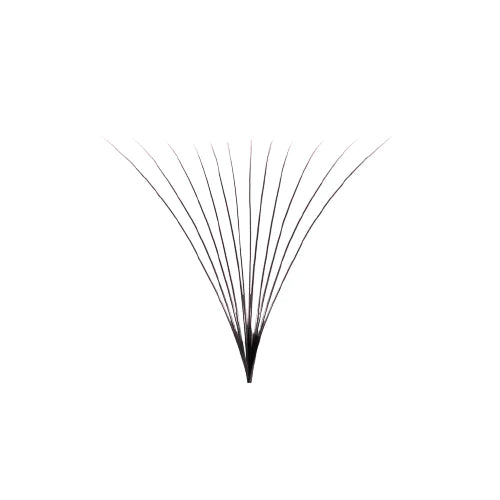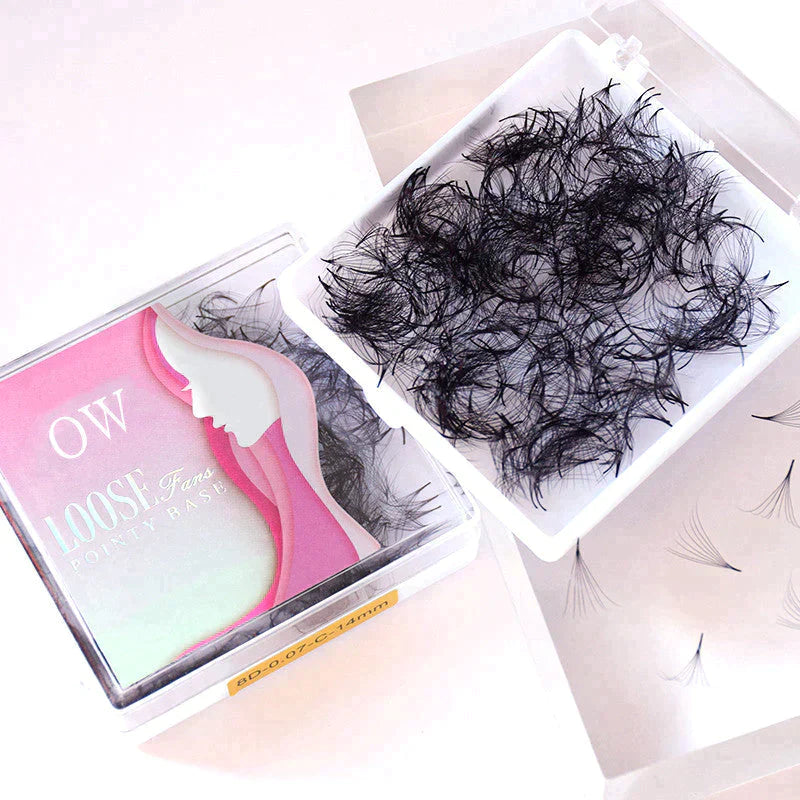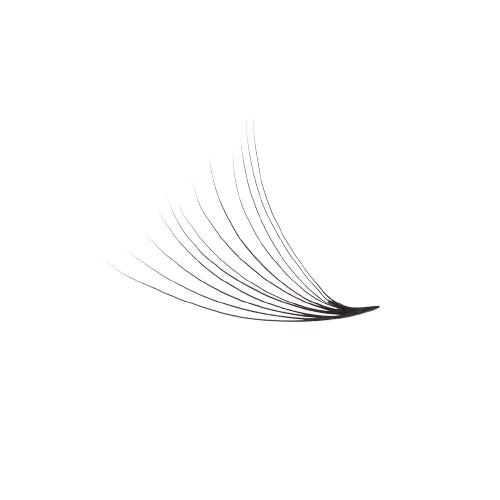 Perfect
I love these lashes. I wish there was more in the package. Good product and cuts my lashing time by half which my clients appreciate. Plus they love their lashes!
Beautiful, fluffy tips, pointy bases
I have been using these pre made fans for a year now and they are my favorite. They have slim bases and fluffy tips.
They are super light and make application a bit faster. I also love how slim they still look when they are grown out and how they stay wide open… something challenging with making your own volume fans.
I use them in hybrid sets or full volume whether I need an extra boost of volume or just feel like using them for a full set! Love them! And shipping is fast too.
Get involved in our Facebook group
Share information about your brand with your customers. Communicate with more eyelash artists and solve your problems~
Join Us