OW 2-3 Seconds Sensitive Bond Eyelash Adhesive Practice Glues
Regular price

$15.00

Sale price

$12.90
DESCRIPTION

OW Sensitive Bond Eyelash Extension GlueDesigned For Professional Lash Technicians

Retention: 6-7 Weeks
Drying Time: 2-3 Seconds
Color: Diamond Clear
Ideal Temperature: 74-82°F
Ideal Relative Humidity: 50-70%
Latex & Formaldehyde Free
Vegan & Cruelty Free
Meets ITQA Medical Standards

 Feature of product

UNBEATABLE RETENTION
Our uniquely formulated clear eyelash extension glue has been created with unrivaled retention of up to 7 weeks! Extra elasticity dramatically increases durability and means that your client's lashes will still look great when they come for their infills.
SLOWER DRYING TIME
2-3 seconds is enough for even a beginning lash technician and makes the whole set quicker than ever.
CONTENTS & SAFETY
✔ 5ml black sensitive bond adhesive.
✔ Unblocking pin.
✔ Designed by professional lash artists.
✔ Cruelty-free & vegan.
✔ Latex & formaldehyde-free.
HOW TO USE

How to get the best retention using Rapid Low Fume Eyelash Extension Glues?



The best temperature for Rapid Low Fume Eyelash Extension Glues is 18-22°C with perfect humidity conditions being 50-65% Please remember that if your:

Temperature is lower than 18°C, glue may be drying slower
Temperature is higher than 22°C, glue may be drying quicker
Humidity is lower than 50%, glue may be drying slower
Humidity is higher than 65%, glue may be drying quicker


Working in the perfect glue conditions will ensure its drying time is on point, resulting in great retention. To monitor your room conditions, we recommend using a hygrometer. The easiest way to adjust the temperature in your lash room is to use an Air Conditioner, fan or heater/radiator. To increase or decrease the humidity, use a humidifier or dehumidifier.



Remember that incorrect work with the adhesive can cause poor retention. If your room has high humidity and temperature, your glue will dry much faster. But since the speed of your work is not increasing accordingly, you might experience poor attachment causing extensions to "brush off" at the end of the treatment OR fall off the natural lashes within the next 2-3 days after the treatment.



Your retention may also be affected if your adhesive is not fresh or you store or use your glue incorrectly.

The shelf life of full size Rapid Low Fume Eyelash Extension Glues before opening is 6 months from the date of production and for the sample it is 1 month. After opening, we recommend changing your glue bottle every 4 weeks for the best retention. If you use the sample bottle, you need to change it every 3-5 days. Please remember to store your glue in the upright position, in a dry place, away from direct sunlight, ideally in an airtight container.

To keep an eye on the freshness of your glue, simply stick a piece of tape with a written date of the glue opening onto your adhesive bottle. When shaking the glue, remove the lid and cover the nozzle with a folded in half glue nozzle wipe. Remember to wipe the nozzle after every use of the glue to prevent the nozzle getting stuck into the cap .
PRODUCT PROPERTIES

✅ BEGINNER and INTERMEDIATE - STRONG individual eyelash glue is ideal for beginners/ intermediate level professional eyelash extensions artists who have recently joined the lash industry. Although it takes slightly longer to dry than the 1-2 seconds glue, it is advantageous for the new lash artist to have sufficient time to isolate and apply eyelash extensions to the natural lashes.
✅ EXTRA STRENGTH FORMULA - This eyelash extension glue has a quick drying time of around 2-3 seconds, bonding lasts up to 6 weeks under proper application and aftercare.
✅ VOLUME AND CLASSIC - This adhesive is designed specifically for lash technicians doing the new, classic and dramatic Volumizing full lash technique in 2D, 3D and 4D. This adhesive will bond the fans closure for the perfect easy application. FOR INDIVIDUAL EYELASH EXTENSIONS ONLY!

✅ SALON SAFE - We work tirelessly to ensure all of our products are completely safe to use. Our lash glue is latex & formaldehyde-free and does not include any of the notes other adhesives do. All manufacturing and packaging are done in a classroom safe by medical standards and animal testing is NEVER used! This eyelash extensions glue is also safe for vegans :)
✅ CERTIFIED BY LASH ARTISTS – All Lash products are tested and certified by qualified lash technicians to ensure they are of the highest quality and 100% suitable for salon use. In addition, we have 12+ years of experience on our team, so you can be sure that you'll always get the best from OW Lashes!

Important information👀Safety Information

FOR EXPERIENCED LASH TECHNICIANS ONLY - under no circumstances should you attempt to apply this glue to your own eyelashes! Ignore this warning at your own risk! Always shake glue thoroughly for at least 60 seconds before use, keep eyes fully closed throughout the entire application process, and perform patch tests on new clients to ensure no reactions occur.

 

👀Legal Disclaimer

WARNING: THIS PRODUCT IS NOT FOR SELF-APPLICATION. IRRITATION OR BURNING MAY OCCUR IF YOU SELF APPLY. THIS PRODUCT IS INTENDED FOR QUALIFIED TECHNICIANS ONLY.
Coupon

Buy ≥$105 Get $5 Code:5$

Buy ≥$199 Get $10 Code:10$

Buy ≥$299 Get $15 Code:15$

Buy ≥$399 Get 5% off Code:ow5

Buy ≥$499 Get 10% off Code:ow10

Buy ≥$1000 Get 15% off Code:WH15

Buy ≥$2000 Get 20% off Code:WH20

Note: Quantity discounts and coupons cannot be used at the same time, and the coupons are copied for the checkout interface
Share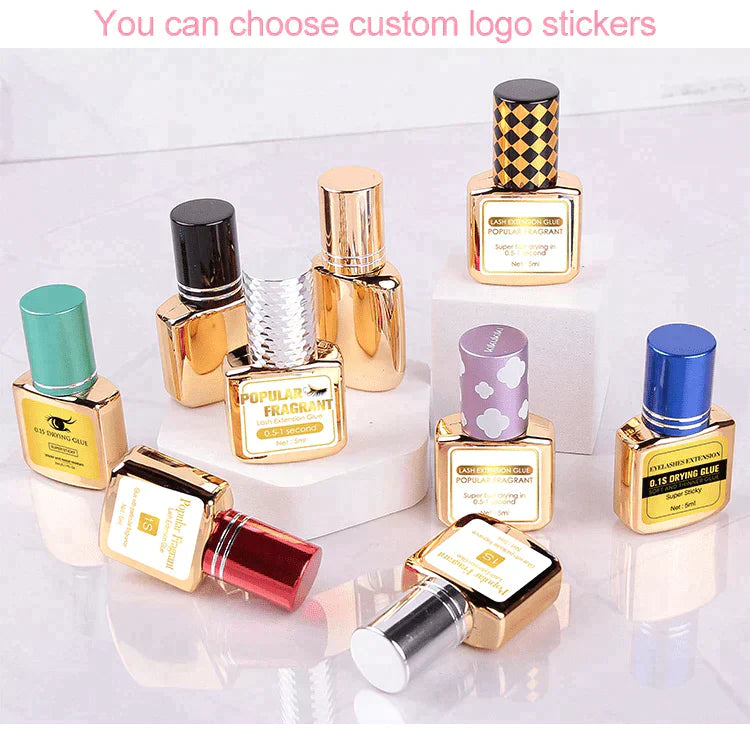 Good
I used a little allergy, it may be my own reason, in short, the sticky is not bad
Good glues!!
This will rip your eyelashes out but if you're looking at professional grade glue it's safe to assume you're only putting fake ones on at this point because you've already ripped out all your lashes anyway. Does it's job, a lot of other glues stay gummy and pick up leftover makeup which would make my eyes burn. This dries hard and fast and I can actually wash my face without looking like hamster after and having to reapply an entire set of lashes. I've put my head out the window to scream at passerby's while I'm a moving car and my eyelashes kept me looking fly because they remained on my face because this glue is the best
Awesome product! Great supplier! Worth the read
I absolutely love this glue! I have been in business for just over 2 1/2 years and have had my fair share in glue trials. I love the consistency, how fast it dries and the consistent retention I get with all my clients! I also get the extra strength brand which I love! Best part is it is easy to use for both beginners and long time professionals in my opinion, as well as all my sensitive clients do not react with this glue!
I unfortunately had a mishap with my last purchase with my email, I didn't receive a arrival date of my supplies. So with 30+ weather and sitting in the mail box for a few days my glue was no longer useable. I reached out to Stacy Lash and let them know what had happened I received an email right away and they have given me a very generous offer to replace it with no charge!! That is huge!! It wasn't there fault (stupid email!) and they were more then willing to help especially with everything going on, trying to get back to normal and financially being a little tight my supplies are very important to me so for them to replace it is incredible! 100% recommend not only just on product along but as well as a professional business! Thank you Stacy Lash
Good glues
Great hold. Says to not use with cluster lashes. I used it for cluster lashes, all you have to do is make sure you dragged the part that you dipped on a paper towel to get the extra glue off. Will post a picture of what I mean. I used this glue for individual lashes but I prefer the cluster lashes. Also sit in from of a small fan so the glue can dry faster
Get involved in our Facebook group
Share information about your brand with your customers. Communicate with more eyelash artists and solve your problems~
Join Us